To students who took the October PSAT (and their parents):
Today you will receive your PSAT score report [follow the instructions in your email you get from College Board  or log in here: http://psat.org/scorereport]. I know the score report may be difficult to understand, so I have compiled these resources to help you interpret the results.
Currently, college counselors are focusing their attention on the senior class, helping them complete and submit their college applications (a focus I know you'll appreciate when it's your turn to apply to college). Later this month I will receive your paper score report, which I will distribute at a meeting. After that, the college counselors and I will begin meeting with the class of 2017 to sketch out a plan for standardized testing, compile a list of possible colleges and create a college application action plan. Until then, a 9th, 10th and 11th grader's focus should be on getting good grades; right now, nothing matters more for your college prospects than your grades this year, including your midterm exams next week!
Good luck on your midterm exams. I'll see you later this month!
John Spear
Director of College Guidance
RESOURCES TO HELP YOU INTERPRET YOUR PSAT RESULTS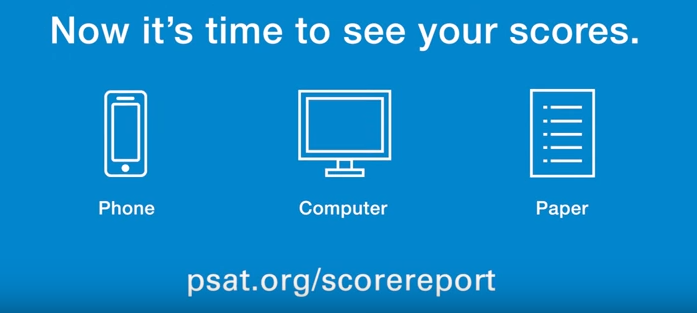 Understanding Scores: Find out how your PSAT/NMSQT and PSAT 10 scores are calculated and what those scores mean.
Sample Score Report: this explains the sections of the score report.
Juniors Who Missed the PSAT/NMSQT in October: If you missed the PSAT/NMSQT in October of your junior year, you can still take advantage of a rich set of SAT study tools, and sign up to hear from colleges.
How-To Videos
Step 1: Get the Most from Your Score Report:
Step 2: Match your College Board account with your Khan Academy® account so you can take advantage of loads of customized, outstanding and FREE SAT prep:
Did you take the PSAT before this fall? Since the redesigned PSAT/NMSQT is different from the previous test, numerical scores on the two tests are not equivalent. Check out the PSAT/NMSQT Concordance Tables.